​What can you do with a Public and Community Service Studies degree?
The major encourages students to develop an area of focus, and our alumni have successfully used this to step into meaningful work, graduate, or professional school for more than 20 years. PSP boasts alumni who are doing well and doing good in a wide range of jobs and sectors, including non-profit leadership, education, government policy, law, public health, youth development, and environmental sustainability.
Alumni Spotlight: Emma Lane '14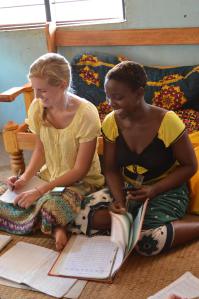 2014 PSP Alum, Emma Lane, moved to Tanzania in August to begin her yearlong work as a Project Coordinator for 2Seeds Network! To learn more about the project and Emma's experience in Tanzania check out her blog at https://sisepuede4.wordpress.com/! Throughout my time in Tanzania I worked alongside of women who throughout their lives had been denied access to basic resources, simply on the basis of them being women living in poverty. These women were some of the most hard working individuals I had ever met; caring for multiple children, cultivating farm land to grow food for their families, and working to run a cooperative business to earn a living. When we worked together in the group kitchen our partners would remind each other of their mantra – "Wanawake Wanaweza" or "Women Can."
Following my time spent with our partners in Tanzania, I knew that I wanted to continue working with women and girls, helping to advocate for equal leadership and development opportunities. I took a position with the Girl Scouts of Eastern Massachusetts as a Volunteer Support Specialist. I work with 28 girl-scouting communities to the west of Boston, supporting local leadership teams. Each community that I work with strives to build a support structure around girls ages five to 18 by providing them with a safe space to explore their passions and to take on leadership roles within their lives.
Much of my job is centered on training adult volunteers to work with girls through workshops and one on one meetings. In addition, I have the opportunity to put into action the community organizing skills that I garnered through the PSP experience in order to recruit, organize and retain local leadership structures composed of supportive adult volunteers. Working with the Girl Scouts has continued to fuel my passion for fighting for equal
Martha (McCahill) Sprague '06
"Since graduating in 2006, I completed a year with the Jesuit Volunteer Corps in Portland, ME, where I worked at STRIVE, a non-profit that works with tweens, teens, and young adults with developmental disabilities. After that, I have worked in various roles working with children and young adults with mental health diagnoses, all in the Portland area. I completed my Masters of Social Work from the University of Southern Maine in 2012 and have my clinical social work license. I currently work as a social worker at a local psychiatric hospital."
Annie Wendel '13
"Still struck with the urge to travel after my semester abroad in South Africa, I spent the year after graduation as a Fulbright Teaching Assistant in Nepal, co-facilitating English lessons while also learning the language, culture and traditions of my host family. Returning to the States, I worked as a teen outreach coordinator, bringing leadership, communication, and team building skills to urban middle and high school students through service-learning projects. After two years, I returned to school to pursue a Master in Education in Community Engagement. With this degree, I hope to combine my passions into a career in global civic engagement education."
Katrina Lipinski '12
"The first thing I did after graduation was jump on President Obama's re-election campaign in New Hampshire, working as a field organizer. And then we won, so I was out of a job, and I moved home to New York to do Americorps in the community health core program. After finishing a two year term of national service with AmeriCorps Community HealthCorps, I started working for One Medical, a primary care company. I help folks understand their insurance benefits and coordinate our women's health services, including colposcopies (biopsies of the cervix) and medication abortions. Our mission is "To transform health care for all by building a world-class primary care system that delivers the highest-quality care and service affordably." I start nursing school this June where I'll complete an accelerated bachelor's of science in nursing followed by a master's degree in midwifery. The end goal is to be a clinician working at a Federally Qualified Health Center or other community-based environment. I'd like to be able to have a trans-inclusive full spectrum midwifery practice that includes family planning."
Chris Friel '01
After graduation, "I spent about five years working for the City of Boston and doing education on water conservation, clean water, not flushing things the toilet you shouldn't be [then] I took a change of course and did software development and software engineering […]I also sit on a couple of non-profit boards doing homelessness and mental health advocacy in the area."